SCP screw conveyor kits are pre-engineered to handle almost any bulk material and are an ideal solution for adding or replacing one or multiple screw conveyors in your process. The standard kits can we upfitted with feeder screws and shrouds, heavier flighting and troughs and SCP Master Seals to make them ideal for any application. The inlet and discharge can be custom fit to the exact location needed at the plant to make spanning special lengths and configurations easy.
Many of our customer who order SCP screw conveyor kits are looking to save time and money. They have a robust maintenance team or favorite local contractor who is more than capable of assembling and installing a screw conveyor. Many times, the screw conveyor is replacing an existing unit or going into an existing process and space is very limited making installing a pre-assembled conveyor impossible. With all the parts, hardware and gasketing provided in the kit there is no need to run around looking for a couple of specialty pieces or hardware to complete the installation. Click here for the CEMA screw conveyor operations and maintenance manual.
Don't have a team familiar with screw conveyor assembly or time to spend assembling it? Don't worry, we can assemble the screw conveyor, test it in our shop and ship it in 30ft max lengths.
Screw conveyor Lengths over 10ft for 6″ and 9″ and 12ft for 12″, 14″, and 16″ include one hanger and hanger bearing per section. There is a choice of hanger bearings to choose from of wood, UHMW and hard iron. Wood is good for grain, feed, wood chips, and sawdust. UHMW is good for sludge, plastic regrind, plastic pellets, flour, and sugar. Hard iron is good for clinker, coal dust, sand, and minerals. Bronze, nylatron and gatke are also available. Click here for further help selecting hanger bearings
Because these kits are pre-engineered and in-stock they are very affordable and can ship in only a few days. All the parts and accessories are included (drives sold separately) and can be easily assembled with only minor cutting and welding required. Contact us for a custom lengths, feeder application or any other screw conveyor needs you may have.
Screw Conveyor Diagram
This diagram is of the typical parts included in a screw conveyor kit. The inlet and discharge are shipped loose and the covers are full length to allow for customization of the screw conveyor at installation.
Screw Conveyor Dimensions
This chart shows the the overall dimensions of a SCP screw conveyor kit. The screw conveyor should be supported at each end and at each intermediate foot along the trough.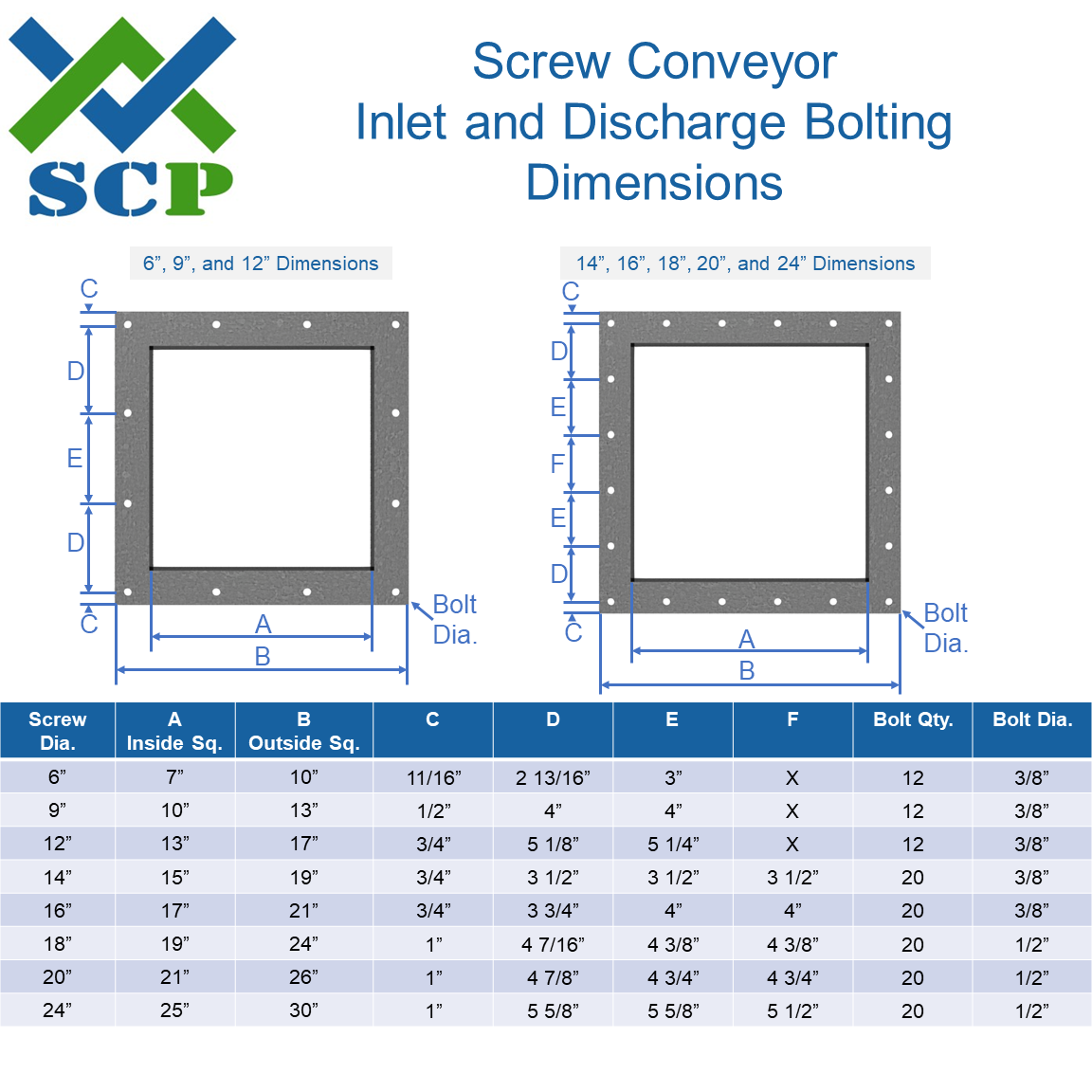 Screw Conveyor Capacities
This chart shows the capacities for screw conveyors. This is for dry, free flowing bulk materials being metered or control fed into the inlet and assumes the screw conveyor is horizontal. 30% trough loading is conservative and assumes the bulk material will convey under the hanger bearing. At 45% loading bulk material will start to accumulate around the hanger. If you need someone to double check your application, email or call us and one of our screw conveyor engineers will be ready to a assist.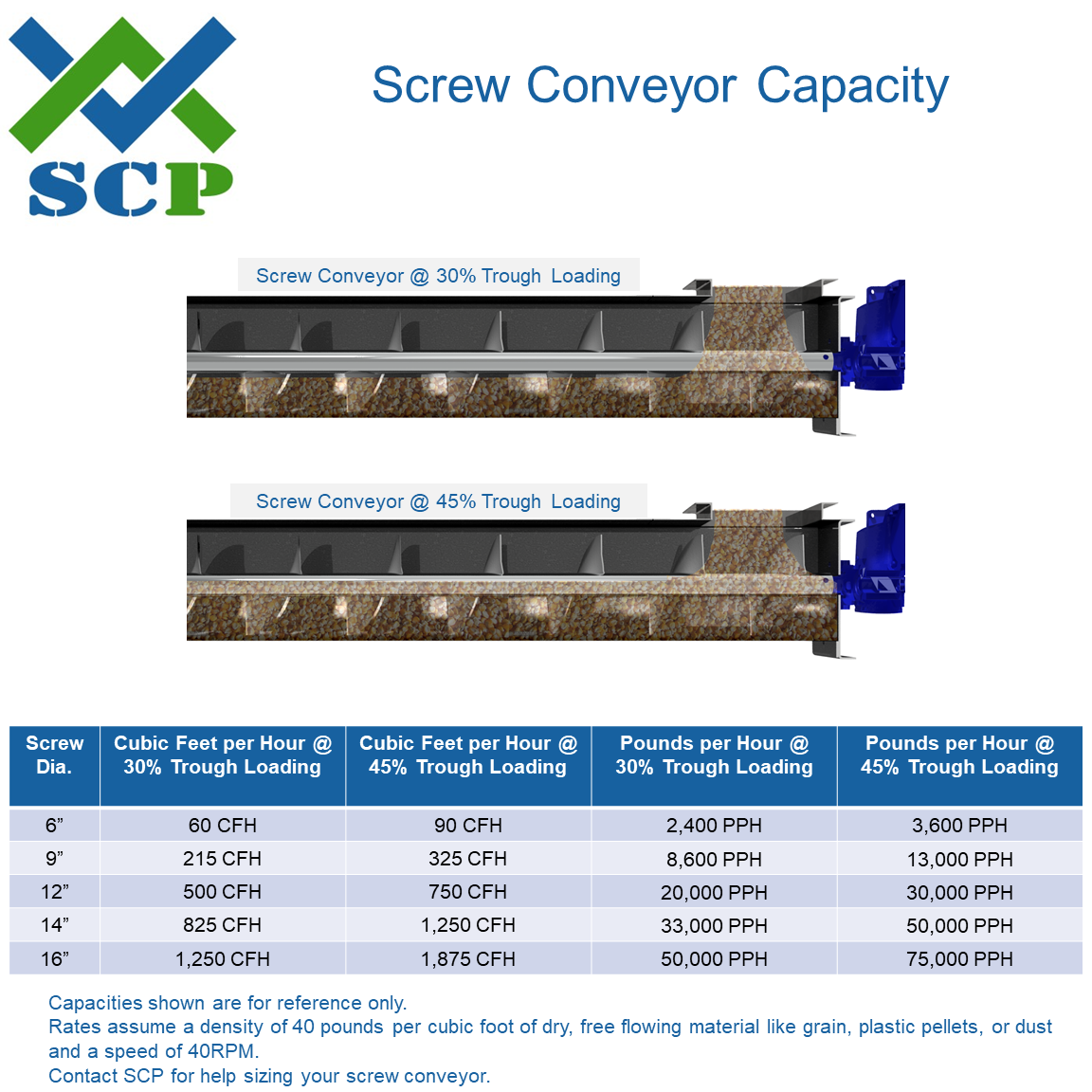 Contact us at (682) 231-1228 or [email protected]